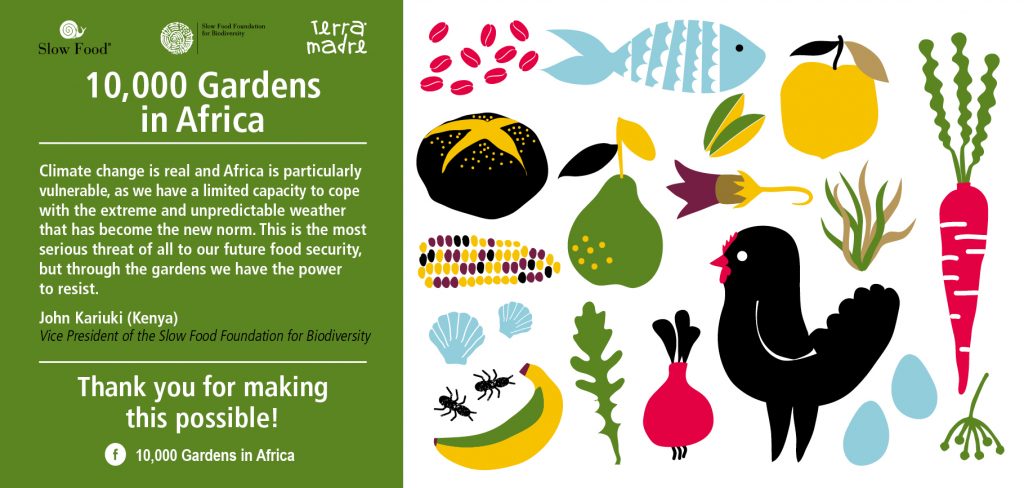 Dear friend,
Your commitment to helping the 10,000 Gardens in Africa project grow is greatly appreciated by all of us and especially by the network of young people working every day to save Africa's extraordinary biodiversity, to add value to traditional flavors and gastronomies and to promote small-scale, family farming.
We are seeing Slow Food's African network become stronger and more solid every day, and with this awareness we are continuing to promote this project. Last year we managed to support the launch of almost 350 new food gardens. The hope for 2018 is to be able to match if not exceed this figure!
With the help of donations from supporters like you, we can keep working and make all of this possible.
You might be interested in a report on Slow Food in Africa prepared for the Slow Food International Congress in Chengdu, which you can read here.
Once again, thank you, with all our heart, for your support.
Warmest wishes,
The Africa Office of Slow Food
Slow Food International
Via della Mendicità Istruita,14
12042 Bra (CN), Italy
Tel. 0039 0172419702
Fax. 00390172419725